KALAMAKI
Kalamaki is a small settlement with many amenities and good tourist infrastructure. It has the good fortune of being built in the middle of a beautiful sandy beach in the Messara Bay, which extends south to Kommos beach and north to the beach of Kokkinos Pyrgos. The famous ancient city of Phaestos and the archaeological sites of Kommos, Agia Triada and Matala are nearby.
Between its ancient pillars and remnants of thousands of years, Kalamaki looks up and out into the deep blue of the sea and sky.
Nature plays an enormous role in this unique beauty. There are dozens of rare plants on the sandy hills, along with cedars and herbs. On the warm sandy beaches of Messara Bay, one can find the eggs of the Caretta-Caretta turtles.
Finally, near Kalamaki are the beautiful traditional villages Kamilari, Sivas and Pitsidia, and the small towns Timbaki and Mires, all of which have good facilities.
KAMILARI
Kamilari is located in southern Crete, very close to Tymbaki, Mires and the seaside villages of Kalamaki and Matala. Kamilari is 4 km from the archaeological site of Phaistos, and is an ideal location for those who want to explore the beautiful Messara Valley with its picturesque villages, rich history and of course the beautiful bays and beaches of southern Crete.
Kamilari is built on top of three hills. It is a peaceful place with panoramic views of the olive groves of the plain of Messara, the peaks of Psiloritis, and the Mediterranean Sea.
The village is very close to the beaches of the region. You will feel the strong traditional nature of its small houses, picturesque alleyways, and unique views. Kamilari has all the characteristics of a typical Cretan village, with its small main square, church, and traditional and colourful cafes.
Every Sunday from 8am to 2pm, one can visit the organic market in Kamilari at the Kamilari-Kalamaki crossroad, offering organic and local produce from nearby villages, as well as small arts and crafts jewellery.
The local weekend market in Mires, which takes place every Saturday, is worth a visit. Farmers from the Messara Plain gather here to offer every kind of fruit and vegetable along with other products that will entice the browser.
In recent years, some artists from the Greek mainland and from overseas have settled in Kamilari, and as a result the town offers many art exhibitions.
But above all, in Kalamaki and Kamilari you will find good-natured, smiling and happy people who will take great pleasure in giving you their hospitality and friendship.
HOW TO GET THERE
Kalamaki is around 70 km from Heraklion International Airport (HER). Coming from Heraklion, first take the national road 90 (E75) to Rethymno, drive about 6-7 km further and then take the national road 97 to Moires. Drive for about 48 km, crossing Moires town towards Tymbaki town. About 8 km after Moires (500 m before entering Tymbaki) you'll find a Nissan car station on your right. Turn left here and take the road to Kamilari for another 4 ½ km. Just before entering the village, turn right to Kalamaki Beach resort follow the sign for Elkysti, drive 2 km and turn right at the sign for "Elkysti Apartments."
Coordinates: 35.032617, 24.765384 (on Google Maps and OpenStreetMap)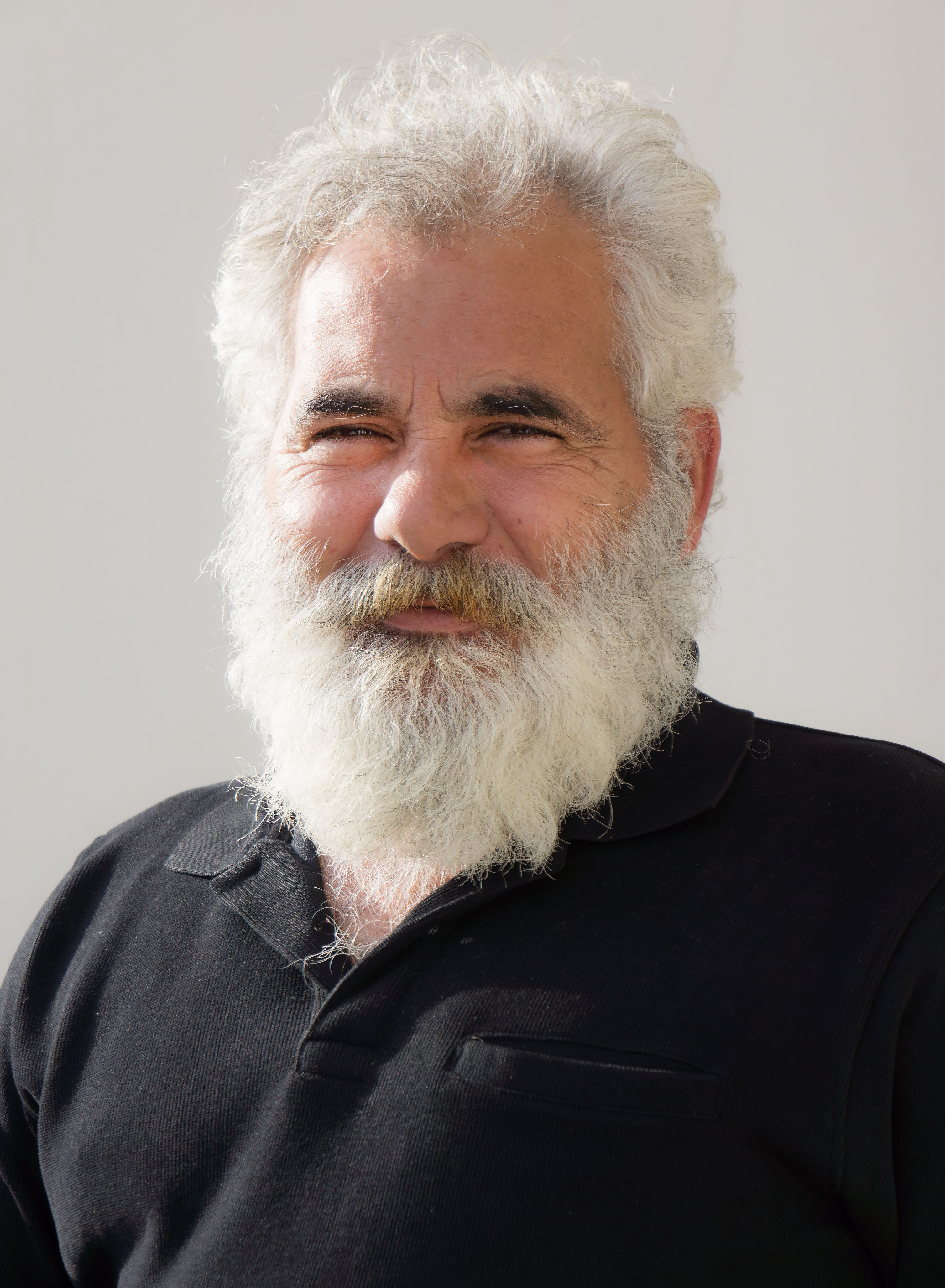 NIKOS PIROUNAKIS
Nikos Pirounakis is a true Cretan with a lot of different interests and activities.
25 years ago, he and his late wife Stavroula started a veterinary practice. This task still fulfils his great love for animals.
His enthusiasm for nature is documented in his agricultural activities. He's busy producing a wonderful wine, raki as well as organic olive oil.
Finally, his interest and his hospitality led him to the construction of Elkysti, a small complex of four apartments.
His favourite activity is taking care of his three little daughters, ELeftheria, KYriaki and STIliani while growing up. Their names first letters result in ELKYSTI.
Nearby
Doctors: There are general practitioners as well as specialists in Moires (14 km) and Timbaki (7 km). Most of the doctors speak English and many also speak German and Italian.
Dentists: There are also good dentists in Moires and Timbaki. You can choose from among several.
Health Center: The nearest hospital for emergency cases is Moires Health Centre. There are several more hospitals in Heraklion. In a medical emergency, you should phone 166 for an ambulance. Emergency treatment is free to all those with an international insurance.
Cash machine: There are cash machines in almost every town large enough to support a bank – in our area the closest are in Timbaki and Mires. Very often you also find ATMs in touristic places, like Matala and Aghia Galini. MasterCard or Visa credit cards are accepted by almost all shops.
Internet access: The south of Crete has a reasonable number of internet cafes and today there are many other places offering Wi-Fi as well. In Kalamaki, many of the restaurants and the cafes have Wi-Fi.
Post: Postcards as well as stamps can be obtained in the supermarket (on the square) in Kamilari. You can also leave your post there to have it sent anywhere in the world.
Opening hours: Due to our hot summers, most shops close for a siesta from lunch-time till afternoon. To compensate, they have extended opening hours in the evening. Kiosks ("Periptero") don't always close for the siesta and are often open until late at night.
Banks are open Monday-Thursday from 8am-2:30pm and Friday from 8am-2pm.
Post-offices are open Monday to Friday from 9am-2pm.
Opening times for shops vary from 8-9am until 1-2pm and again from 5-5:30pm until 8:30-9pm.
Most souvenir shops are open continuously from 8 or 9am until 10pm.
To be really sure you should always check the opening times that are displayed on the establishment.